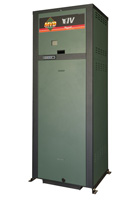 Sizes: 500,000 to 1,999,000 BTUH
Brass headers with copper finned tube heat exchanger. Cupro-nickel tubes available as options
85% efficiency, Cat. I venting.
On-off operation.
Smallest installed footprint (5.4 square feet) design fits tight spaces and easily replaces larger boilers.
Advanced diagnostics center, real English fault codes.
Certified under SCAQMD rule 1146.2. Meets all Low NOx regulations.
Available for natural gas or propane.